24-Hour Emergency Storm Damage Repair
Accessing, cleaning up, and repairing the damage after a big storm can be stressful. Leave it to Minnesota's First Choice—your trusted local leader. Our experienced, knowledgeable team will be there whenever you need us to get your home or business back into tip-top shape.
Fast Repair Services To Protect Your StructurWe strive to provide you with quality exterior products and services and have extensive experience working with all types of commercial exterior configurations and material manufacturers.
So if you want seamless damage mitigation, repair, and restoration services, contact us today. Taking immediate action after a serious weather event will help limit the damage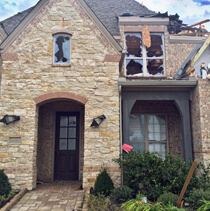 The most obvious sign of hail damage after a storm is the dents and dings in your vehicle. Most people don't think to look at their roof, siding, or gutters after a hail storm.
Hail damage to your roof creates blemishes called bruises. When this bruise is created, it can crack the fiberglass membrane of the shingles and allow water to seep into your home. This can happen slowly over time and by the time you notice it, the damage has been done.
It's hard to tell if your shingled roof needs to be replaced after a hail storm. Let the hail damage specialists at Minnesota's First Choice inspect your roof and gutters to determine the best course of action. Contact us today for a thorough hail damage evaluation by our trained and experienced inspectors.
When you think of wind damage, most of us think of tornadoes, hurricanes, and severe thunderstorms. But it's not just prolonged, severe weather that can cause wind damage to your home. Moderate intensity winds that gust 50-75 miles per hour can lodge debris under your shingles, causing damage to the underpinning and structure of your roof. Over time, this can cause loss of roofing materials and damage to the structural integrity of your roof and rafters.